Spider-Man: Far from Home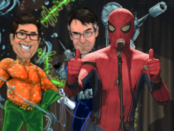 News of the week, but FIRST — WonderCon interviews with artists Joey Spiotto and John Hegman Jr. !
It's a Comic-Con preview episode with Marty Abrams, the president of MEGO, relaunching in San Diego this week! Then who was Flesh Gordon, what's in the bag, and much more!
We slow down and appreciate the complex contributions and life of Harlan Ellison, then the fanboys shout "news!" in the heart of the world…