Join the Real Life Justice League At C2E2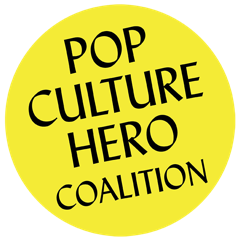 Our podcast mantra — and for life — is "use your powers for good." Actor/activist Chase Masterson takes that to the next level, inspiring fans, reaching out to people who can themselves inspire, and doing what she can to make this world a better place. This weekend at C2E2 in Chicago, you can see for yourself as her organization, the Pop Culture Hero Coalition, hosts a panel that will include an interesting first-time participant, Mike Strautmanis of the Obama Foundation. This is the first time a member of a Presidential Foundation has spoken at a pop culture convention, though we've long known Barack Obama is one of us. Strautmanis will be joined by John Barrowman, MBE, (Arrow, Torchwood, Doctor Who), and many others.
They will discuss their experiences with justice, fighting bullying, and ways that people can reach out and help do some good.
From the Pop Culture Hero Coalition:
Pop culture provides a powerful mirror to real world events, and superheroes' stories are a
relatable mobilization tool for justice IRL. Back by popular demand, Pop Culture Hero Coalition
teams up celebrities and activists at C2E2 for a groundbreaking intersection of pop culture and
social justice.

C2E2
McCormick Place, Chicago
SuperheroIRL! Join the Real-Life Justice League
Friday, March 22, 2019
12:30 – 1:30 PM, RM S403

Speakers include:
• The Obama Foundation: Mike Strautmanis
• John Barrowman, MBE: Arrow, Torchwood, Doctor Who
• ACLU Deputy Director Communications Max Bever
• Untamed: The Psychology of Wolverine author, Dr. Suzana Flores
• Eisner-winning Black Panther illustrator Afua Richardson
• Black Panther vs Deadpool author Daniel Kibblesmith
• Bullied author and Coalition Co-Founder Carrie Goldman
• Moderator: Coalition Founder Chase Masterson; actress, Star Trek: DS9, Doctor Who Big Finish

Mr. Strautmanis' participation marks the first time a member of a Presidential Foundation will
speak at a pop culture convention.

"Pop Culture Hero Coalition is combining transcendent stories with psychologists' work in innovative
ways: to teach empathy, resilience, inclusion, and other mental health and social justice skills in
schools, comic-cons, and communities," says Masterson, who founded the Coalition in 2013 with
Goldman. "We are making a stand for every person's inherent right to dignity and equality. In
speaking a language young people love, we are leading them to dismantle systems of ignorance,
apathy, violence, and hate – and to create justice, like the onscreen heroes we love."

"This panel provides a forum for us to reach the most vulnerable people attending Comic-Con and
remind them that they are not alone," says Goldman, whose award-winning book is internationally
acclaimed. "They have greatness in them, just like the characters they so admire."

"It all depends on what kind of king you want to be."
Black Panther