George Mann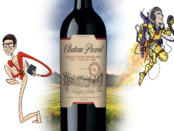 More interviews from San Diego Comic-Con 2019 along with news of the week and… wine from the future! 
Does this mean we all can become characters in Star Wars? Possibly, if you're planning a trip to Black Spire Outpost on the Outer Rim world […]
Continuing Comic-Con 2018 coverage featuring Paul Tobin, Colleen Coover, and George Mann! Plus comics, movie, and TV news!