Troy Baker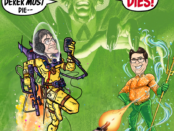 Interviews with the cast and crew of Batman vs. Teenage Mutant Ninja Turtles, followed by news of the week!
The first Telltale Game I played was Bone: Out From Boneville. I was so excited that Jeff Smith's story was brought to life (still the only […]
While watching dozens of great independent films, we were able to sit down with the crews and casts of Love is All You Need? – a powerful message about bullying and acceptance with an "alternate world" twist, The Phoenix Incident, a UFO invasion story that you probably saw on the news, and finally Friends Effing Friends Effing Friends – a modern comedy drama about relationships between circles of friends in modern society.