A big cake getting wheeled out to celebrate the birthday of the bat… it seems like the plot of a Batman 66 episode, definitely something Cesar Romero's Joker would do. On Saturday at WonderCon 2019, the cake celebrating the Caped Crusader was 100% sincere, and a fun button to why fans had gathered. Even after all these decades, the Batman looms large in our culture, and this year marks the 80th anniversary of his first appearance in Detective Comics #27.
To honor the creation of artist Bob Kane with writer Bill Finger, several actors from various incarnations of Batman gathered. Gotham's Bruce Wayne, David Mazouz, joined Kevin Conroy (Batman: the everything but live-action), Diedrich Bader (Batman: the Brave and the Bold), Lee Meriwether (Catwoman in the 1966 Batman movie), and Roger Craig Smith (Batman: Arkham Knight) to share memories of what Batman has meant to them.
Is there a 20th century literary creation that casts a longer shadow? Even now Warner Bros. is trying to reignite the movie franchise (no DC character has had more live-action appearances in cinema), and you can argue that there's nowhere in the world people don't know Batman. So it also makes sense that Comic-Con International announced Batman as the inaugural inductee into their "Character Hall of Fame." Superman might have appeared in comics first, but it's Batman — with all his troubled humanity yet indomitable will — that for all intents and purposes defines comics to the majority of people.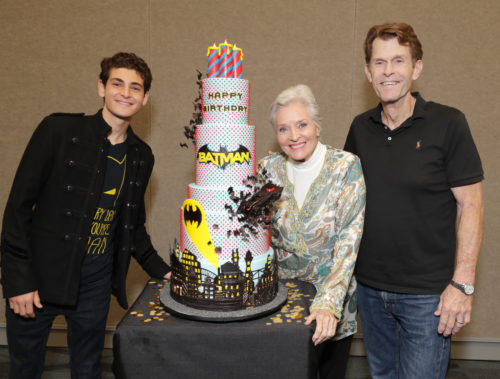 Of course, the celebration will not just be limited to one day at WonderCon — we've got nine months (at least) of events happening. Details below in the press release from DC:
DC rang in 80 years of Batman today as fans around the world celebrated the pop culture icon. It was announced today that Batman hit a new milestone and will be the first inductee into the forthcoming Comic-Con Museum's Character Hall of Fame. The news was delivered by Jim Lee, DC Chief Creative Officer and DC Publisher, at today's "Happy Birthday Batman!" panel at WonderCon in Anaheim, CA.

Marking 80 years to the day since Batman made his first appearance on the pages of DETECTIVE COMICS #27 in 1939, the panel featured Lee, David Mazouz (Gotham), Kevin Conroy (Batman: The Animated Series), Lee Meriwether (Batman), Roger Craig Smith (Batman: Arkham Origins), and Grace Randolph (Beyond the Trailer). The panel brought together fans of all ages to celebrate the world's most popular Super Hero and share a slice of Bat-cake.

Special highlights to the discussion included Conroy saying how the character is especially important to him because "Batman has no powers, but he doesn't let tragedy overcome him." Mazouz added "Batman turns tragedy into strength. He turns pain into something positive for everyone around him." Meriwether also shared her heartfelt memories of working on set of the 1960s Batman film with Adam West.

Diedrich Bader, Kevin Conroy and Roger Craig Smith

The panel also exclusively broke details on Batman's entrance into the Comic-Con Museum Character Hall of Fame. Paying tribute to the timeless characters that have shaped popular culture, the ceremony will honor Batman as the first-ever inductee. The inaugural ceremony will take place opening night of the 50th San Diego Comic-Con on July 17, 2019 at The Comic-Con Museum's future venue, the Federal Building in San Diego's Balboa Park. As part of a fundraising event and in celebration of Batman's 80th Anniversary, the event will feature displays of authentic props and memorabilia, and special appearances by artists, actors and other creative talents who have contributed to making Batman a global icon of popular culture. Tickets for the public will become available on June 3rd. For more information visit ccmgathering.org.

The panel also unveiled a spectacular Batman themed cake from Bluprint – a digital lifestyle learning platform – elements included 3D flying bats, a Batmobile and Gotham City. It was designed and created by Bluprint's cake artist Ashley Holt. The celebration concluded with a photo to commemorate the moment, featuring the all-star Batman panelists, Bat-fan cosplayers and a cake fit for a pop culture icon!

Plus, #LongLiveTheBat also trended online with fans across the globe wishing a happy birthday to the caped crusader, alongside the stars of Gotham, Pennyworth, Supergirl and Krypton.

Batman fans also celebrated today with a special DC UNIVERSE stream free event. For today only DC UNIVERSE opened its digital doors for a day of free Batman live action and animated films, TV series and comics. From Frank Miller's landmark BATMAN: YEAR ONE to Tim Burton's 1989 blockbuster to the epic Batman: The Animated Series, users are able to binge hundreds of the greatest superhero stories of all time. And, if 24 hours of Batman binge-watching is not enough, the first month of DC UNIVERSE will cost only $0.80 cents for new members who sign up between March 29, 2019, 12:01 EST and April 4, 2019 11:59pm EST.

For the eight decades since Gotham City millionaire socialite Bruce Wayne donned the cape and cowl, Batman has served as a symbol of determination, bravery and justice to generations of fans across comic books, movies, television, video games and more. DC will honor #LongLiveTheBat throughout 2019 from now until Batman Day on September 21.

Conceived by artist Bob Kane with writer Bill Finger, Batman is humanity's timeless hero. And he's just getting started. More details on the global celebration will be released in the coming months.

Fans can join in on social media using the hashtag #Batman80 and #LongLiveTheBat. Visit www.Batman80.com for the latest news and updates.

Happy Birthday Batman Cake