It's film festival season again! Cinequest 2016 starts on March 1st, so if you're in the San Jose / San Francisco Bay Area you should check out the films and events planned for this year.  And in the coming weeks, watch Fanboy Planet for upcoming reviews and podcasts daily from the festival.
Now in case you're wondering about the quality of films the Cinequest brings in, here's a new review of an older offering.  I've always regretted not writing a full review of one of my favorite films from the Cinequest film festival in 2014. Nothing in Los Angeles was one of the most entertaining and satisfying films I saw that year, which is saying a lot as Cinequest never fails to bring in a ton of innovative, inspiring, thought-provoking, and amazing films to San Jose.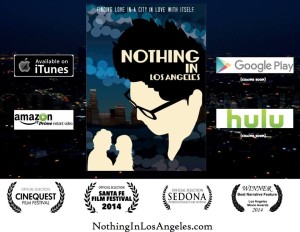 I could go on and on about how you really missed out in not seeing this during the festival. Yeah, independent films are often hard to run down and I typically feel like I'm teasing the reader when I tell them how great a film was… that they missed.
But today, I'll simply point you to a number of online sites that host the film, and recommend you treat yourself to a viewing.  If you are already a member of Amazon Prime, I'd go there because it's a free viewing (at the moment).  But it's also available on iTunes, and is promised to be available on Hulu and Google Play soon.
Oh, and here's a trailer!
So, you have my recommendation, it's simply an engaging, witty, and well done film.  Your viewing time will be well spent.  And mark your calendars for March 1st, and the new Cinequest film festival season.
January 27, 2016