In my two days on the set of Jekyll last week, the schedule was such that only three actors were on set. As a result, I spent most of my time just observing the shooting process and occasionally giving in to the siren call of craft services, sampling Nutella for the first time in my life. Thankfully, one actor grabbed me right away on his first break, knowing that I had a job to do besides stuffing my face.
Playing Ziggy Poole, Jekyll's assistant, British actor Desmond Askew brings a sense of fun when he can, but absolutely the right gravity when necessary. With spiky reddish hair and an impish grin, he brings an air of the formerly angry young man who decided life was too short to be pissed about it. It's an air he's brought to a few previous roles, most notably in the cult(ish) film Go, and a stint on the WB's Roswell. Not that it matters, because of course, we've got to live in the now, and Desmond is proving his chops on this film.
Derek McCaw: You're playing a character described in the script as a young cyberpunk, Ziggy Poole. What's your take on him?
Desmond Askew: In the original book and, I think, every movie version, Poole is Dr. Jekyll's butler. He's just immensely loyal to Jekyll and thinks he's a genius, doing everything he can to defend his honor and his person.
In this version of it, because it's an updated telling, obviously, our Dr. Jekyll wouldn't have a butler. So he has a lab assistant. It's essentially the same character deep down, but the façade is very different. Ziggy is younger, a punk rocker, as opposed the very stoic, staid morning-suited butler.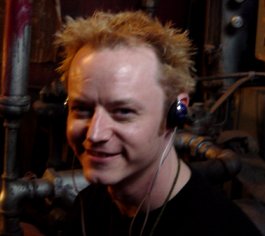 DM: One thing that the director has mentioned is feeling a weight in dealing with such a classic story. How do you feel about that?
DA: I'm just trying to keep it faithful towards the essence of Poole's feelings toward Dr. Jekyll. I think that's the most important part of his character. Jekyll absolutely trusts him with his life, and to some degree Hyde trusts him as well. He's a very honorable loyal person. Once he's signed on for your team, he's going to be there to the death. And that's really the most important factor for me, so I'm not trying to throw in any butler-esque lines in there. It's definitely brought up to the modern day.
DM: And he's a gamer?
DA: Absolutely. He's very passionate about his games and his music. The costume is mostly concert t-shirts and band t-shirts.
DM: And Comic Book: The Movie t-shirts…
DA: Oh, yes. Ziggy would love that. I'm sure he has the DVD in the lab somewhere.
DM: Are you a genre fan yourself?
DA: To some degree, yeah. I would say that I'm a fan, but the origin of that word is fanatic and I'm not fanatical. I like to spread my attention a little wider among different genres. Good material of any genre is good material. It's the same with music. I don't think it's wise to restrict yourself to one flavor of music. There's good classical music; there's good hip-hop. I like "good" in everything, to find the best in everything.
DM: Okay, so Ziggy's good at games. How about you personally?
DA: I'm pretty lame. Through my teens, I went to drama school earlier than most people. I went from ages eleven to sixteen. And so those formative years when the pop culture really stamps itself on kids – I was too grown-up for my age. At that time, I was very adult and very focused on my career. Later on I got into it, but I'm still a little behind.
DM: Are you too grown-up for your age now?
DA: No, not at all. I've regressed. Now I'm twelve years old again.
DM: I assume that Drama School was in England?
DA: Yes, I didn't move out here until I was twenty-five.
DM: So your background is a lot of stagework?
DA: Plenty of theatre growing up, that's how I learned my craft. But also a lot of TV. Because we're a smaller territory commercially, actors in England, even our best and most well-known, do everything because they have to. (Dame) Judi Dench was a sitcom actress. You don't get paid as much for what you do, because it doesn't reach as big an audience.
It's all commercialism, really, but it does give you a broad base of training. I think it's good for an actor. It's good to do stage work and TV work, because you can bring elements of one craft to another.
DM: How has it been working on this shoot? It's seemed rather fast, even in casting.
DA: Casting was relatively average. They signed me on for this just before Christmas, for us to start near the end of January. I've actually been cast with a lot less notice than that before. But the shoot has been incredibly fast. We're scheduled for fifteen days. I think we're going to run over that a little.
It's because the movie is just growing by the day. It was a little project. I think it was Scott's baby. Whatever he would have achieved with it, he would have been happy. But everybody is pulling their own weight, and so much more, causing it to grow day by day. I think everybody has the faith to put in extra time, extra hours and extra money. It's going to be the little movie that could, I think.
DM: You had a week of rehearsal as well.
DA: Yeah. My material is restricted to the lab, so I had a day of rehearsal. But Matt was in every day, working with the different characters. He's going to interact a lot with Jonathan (Silverman) and Siena (Goines), who plays the Christy character. She's really the temptation for Jekyll to become Hyde. She represents his darker, more primitive side.
DM: What's it like working for Scott Zakarin? Do you need to do some kissing up here?
DA: (mock puffing up) Never. He's so down to earth. He seems like he's having the time of his life, and that reflects with everybody. He's so nice to everybody because he's having a good time.
DM: And you're having a good time?
DA: I'm having the greatest time. It's such a joyful project when everybody wants to make this better than it should be. Making it greater than the sum of its parts. Everybody has the same aim here, and that's really coming across.
DM: You mentioned that you had a short run on Roswell. How do you feel about Tabasco sauce?
DA: I'm not even quite sure why that has anything to do with it. I think it's because one of the characters liked it. Every character has their own set of passionate fans, and I believe mine are known as "pepperjackers," because my character liked pepperjack cheese on his sandwiches. I think that show encompassed the two most passionate sets of fans that are out there. Which is teen romance and sci fi. When you get both of them in the one show, those fans were incredible. That show was about to get axed, and it got pulled back.
DM: Do you encounter "pepperjackers?"
DA: I have done, yes. On the website, I don't know if it was the official one or a fan site, they poured in questions. And then the lady that runs the site came and asked me them. So I was indirectly answering questions from these people. They're so focused and intelligent. They were writing the plot ahead of time. You're wondering what's going to happen next season, and when you hear some of these people's ideas, you think that maybe the network should hook them up with a job. They've got some great ideas.
DM: Between Roswell and Jekyll, you may carve out a niche as a genre actor. Once you become known as that, you can't shake it, can you?
DA: I think you're right. In an ideal world, I don't want to restrict myself, in any way, at all. But they're definitely very passionate and very loyal fans, so I would have no problem being in many more genre movies. They're the most appreciative fans.
DM: Do you have a favorite role?
DA: I don't, you know? It's pretty much always the one I'm working on. Looking back, there are some that I favor more than others. I really enjoyed the role I played in Go. He was the ultimate bacchanalian. He just went with it, kind of like a Hyde character. He wants to enjoy himself no matter what the consequences. That's a great role for an actor to play, because you're safe. It's being able to get into fights, do drugs, sleep with women without protection, all of those things without the consequences. It's a good fun time being able to play doing it. It's great being able to break stuff and not have to clean it up.
With that, it was time for Desmond to go back on the set where, for a change, he didn't break any stuff. The next day was his last on set, after a week shooting in the lab. When his final scene wrapped, the applause from the rest of the cast and crew was loud and long. He shook my hand on the way to his trailer to change, and with a sad smile said that was it. But we both knew the truth: with this company, you always come back.