Creative Light Entertainment invited me down to the set of Jekyll, at a time when they were doing a lot of filming in the basement of the Linda Vista Hospital. Evidently, my trip was book-ended by shooting in strip clubs just before and just after I would be in Los Angeles. Thanks, guys. At least I got to see some dailies.
During a fifteen-minute break, director Scott Zakarin sat down with me to continue our ongoing conversation about the production of Jekyll. I had to follow up a little bit from the previous week, when I had been introduced (by phone) to Siena Goines, the actress playing the seductive stripper Christy. At the time, I hadn't had a chance to actually talk with Scott about her casting, remembering only that the role was not cast without controversy.
Derek McCaw: Knowing who was originally cast as Christy, and then seeing Siena Goines ending up with the role, they seem very different physical types. The difference in physical types among all the women in the movie was an important consideration in the casting meeting I sat in on back in December. How did you end up with Siena?
Scott Zakarin: I think I got lucky. Physical types are how sexy they are. If we're just talking about physical types, but Siena is much more than that. When I look at Christy, she's got to be somebody, as written in the script, who looks like Satan has crafted her himself. If Satan had crafted sin, that would be Christy. And Siena is a work of art. She's stunningly beautiful, but on top of that she completely has the acting chops. I was thinking that I would cast a Broadway dancer, because I really wanted the dancing number to be super-special.
Instead, we had Kay Cole, who is a Broadway choreographer and created the role of Kate in A Chorus Line, work with her. Siena can certainly move. Siena's "show-stopping" striptease is truly that. She's just wonderful and beautiful.
DM: She told me that you had spent a lot of time discussing the life of the stripper and the psychology of the stripper. Just what insights do you bring to that?
SZ: Well, you know, I 'd worked for Playboy for a few years, so I was exposed to it in that way. But more, it was exploring a person who, before they even got out of the gate to see all they could be, suddenly had it taken away from them. In the case of this character, it's because she had a child when she was a teen-ager. Now she had to go to work and make her way. And that is similar to a lot of stories that I have heard from strippers. By no means am I disrespecting them, by the way; it's as noble a career as anything.
But that does seem to be some of the humble beginnings in that area. At my own bachelor party, one of my producers, Eric Mittleman, had insisted that I get a table dance at one point. And I said, sure, I've never gotten one before, and by the way, I've never gotten one since. When I got brought into the room, and I started to get my lapdance, I started asking the stripper questions. This was when I got married years ago. She told me she had a kid and we talked. Basically, Eric paid his twenty dollars so I could have a conversation. What we didn't realize was that that would become great research. Christy was born from that.
DM: Everybody keeps commenting that this is shooting so fast. Why are you rushing through this?
SZ: We're a modestly budgeted, very ambitious little movie. Part of what's helping us shoot fast is that we did a very thorough pre-production. Part of it is that we're shooting with two cameras for a lot of the scenes. We're allowing specifically for that.
Having done multi-camera television, I'm very comfortable having to concentrate on two cameras at the same time. I've also had great rehearsals with the actors, and my Director of Photography, Bill MacCollum, is just outrageous. He's a guy who jumps right in there and does whatever it takes. He's a total warrior. We also have a terrific gaffer, Jenna Perkins. She's just sensational.
It always amazes me how much credit is given to the writers, directors and producers when all we really do is nudge it in the right direction. You need a really great crew to pull it off. And I am blessed this time with a tremendously talented crew, who are pouring everything they have into this. Mark Teague, who we've talked a lot about, has been working day and night, using all of his innovative abilities. Evan Unruh from our offices is doing graphics and has been here, making sure that everything goes well.
So it's really just the fact that the machine is working incredibly well that's helping us. And also necessity. We're modestly budgeted, so you need to move fast. Everybody is thinking several steps ahead at all times.
DM: Were there any stumbling blocks once you reached actual filming?
SZ: Yeah, we already fell behind schedule, and had to add an extra day to the shoot. It's just so ambitious. This movie is loaded with stunts and special effects, plus very delicate intense performances. All those things take time. Good lighting takes time. Good sound takes time.
We find ourselves at the end of the day having shot most of what we needed, and try not to compromise. It's pretty easy to fall behind, and then you have to figure out a way to make it up. Fortunately, being the writer and the director, I can sometimes push a couple of scenes together. I can get the same information, or eliminate scenes that now, in the filming, don't seem as necessary.
DM: I heard that there was an accident on the first day of shooting.
SZ: Yes. When you do stunts, there's always that risk. Banzai Vitale, who's our stunt coordinator, watches out for everything. The actual accident came from a non-stunt performer doing a slight fall and getting hit. He slid into the matte-box on the camera, which is really not what you'd expect to happen. It's partially from moving fast; that can happen. He got a nice little slice on his head, but he came back and did a take right after that, then came back the next day.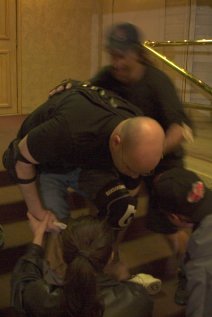 As a sort of payback, I did a stunt myself where this big burly bouncer, the guy who got hurt, and his hand is the size of my body, threw me down the stairs. I realized that was the last scene for him, so he could really have done anything he wanted to me. He was more concerned for my safety. Nobody could figure out why the director was getting thrown down the stairs, but why should I let the actors have all the fun?
DM: So you're doing your Hitchcock cameo?
SZ: No, I'm not into that type of cameo. But in every movie, my thing is to do a stunt. I'll make it a little more dangerous each movie. I'm setting that up with the stunt coordinator. As a kid, I had a dream of being a stuntman, which I outgrew when I realized that it hurt.
Right now, I'm finding that it's a little bit of a childhood fantasy to go into a very safe, protected environment and get thrown down the stairs. I recommend it, by the way, for other directors. I think George Lucas should be thrown into a wookie or something.
DM: People would agree with that for different reasons. Since your last directorial effort with actors, The Adventures of Cinderella's Daughter, was nowhere near as effects-heavy or stunt-heavy, are you finding any particular challenges in doing this film?
SZ: Well, Cinderella's Daughter was really a broken TV series that we sewed into a feature. And that came out pretty good for what it was. People seem to have liked that movie, though not enough actually saw it. You can go order it over at the Creative Light store.
DM: It does have a Stan Lee cameo.
SZ: So it's perfect for Fanboy Planet. And Shirley Jones is actually the Fairy Godmother, so you do have the pulp cult attachment to it. Also, for fans of The Spot, Laurie Plaksin, formerly Laurie Shiers who was Tara on The Spot, plays Cinderella. But that was years ago.
This film, a whole new set, a whole new thing. I like kids' films; I like horror films. And I'm also doing a very personal film at this point.
DM: Yes, but is it a greater challenge?
SZ: I'd say it's far less of a challenge than I anticipated. Not having that much experience, especially in stunts, I thought it would be impossible. But having Banzai Vitale as stunt coordinator, he just knows his shit. He's such a comforting presence on the set. Literally, I feel safe and secure, and that gives me a little mental break. All I have to do is work with him and watch magic happen.