Crisis on Infinite Earths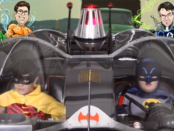 Exclusive interview with music teacher Kevin Croxton about Batman: The Scheme Is Sound, plus news of the week!
To no surprise, but with no joy, the CW announced today that next season of Arrow will be its last. It will also be shortened to […]
When is the Crisis on Infinite Earths? The answer is "Right On Time" and we'll explain in this episode, and more!